Vatican tour was amazing.
Did guided tour. Gabrielle was great tour guide. One guy kept talking to her and then we get to hear whole convo. She spent a long time in Raphel room. Going to just post pictures that I took before we entered the Sistine Chapel. Up until Day 11 I had taken about 1250 tickets. At the Vatican I took over 500. You will eventually see them all on Flickr or Google Picasaweb but until then here are a few samples.
Floor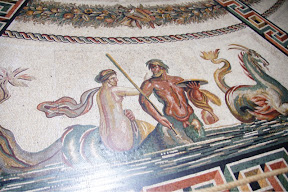 Notice the glass eyes.
Tapestries.
Ceilings. Everywhere you looked there was art. The floor, the walls, the ceilings.