This is part 2.
It wasn't too long of a drive to Poggibonsi. When we pulled into the parking area of the apartments Guiseppi saw us and came down. My Aunt and Uncle had met mostly everyone on their previous trip to Italy 3 years ago.
I will have to explain how we are related later. We met Guiseppi and his wife Lena. Across the hall Guisepe's brother Rosario and his wife Elva live. There granddaughter Catarina who is 13 was there. She is learning to speak English. We all got to do our first double kiss greeting. Pretty cool. Actually someone did one to Andrea earlier because they thought she was Italian. She is half Italian like us but besides maybe Adam she looks Italian.
Guiseppi closest and Rosario far left. Elva by the door.
Catarina and Lena. Chris is frantically trying to find words. We should have been practicing things like Aunt, Uncle in the car instead of Italian pick up lines and Do you surf?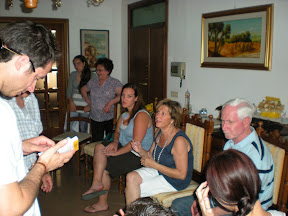 Only Rosario's son Lorenzo speaks English and he was not there. It was lots of fun. Guisepp was trying really hard and having a great time trying. My uncle has a great pictures of "two Italians speaking". Hands in the air gesturing frantically. My Aunt got more Italian when she was there. It was funny. His camera uses an xD card so I can't upload it to the iPad. I will post later.
We headed off for them to take us to Lorenzo and show us around San Gimignano . We followed them to San Gimignano.
Lorenzo to the left of Bob.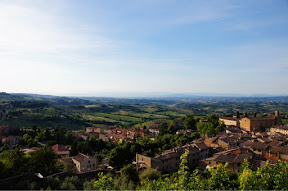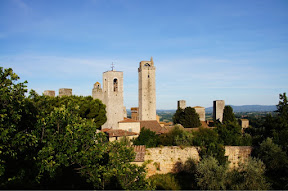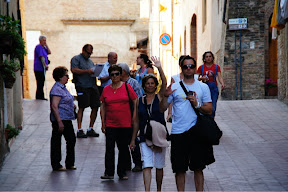 Look Lenz's make sewer grates in Italy. I was walking and saw it but it actually said Lenzi. Lorenzo found the leaf to cover the i.
I have always used Lenzoni as my "Italian name" like the blog name, But maybe I should be using Lenzi. Who knew?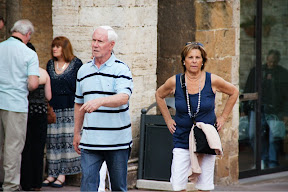 Chris stealing laundry.
We now left San Gimignano to have dinner at a restaurant that Catarina's mother Sonia owns. It is actually a campground. We need campgrounds like this in the USA.
- Posted using BlogPress from my iPad