The day started of with the owners son, Jacob, bringing pastries to use. Delicious. He was there to clean the pool and mow the lawn.
The plan for the day was to see the rest of Cortona. We drove up to the church, Santa Marghertia Basilica, first.
No pictures allowed again.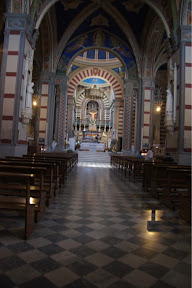 We then drove up to the Fortezza. This is the church from the fort.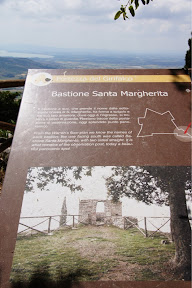 From the Fortezza we found Villa Stefania which I posted in a previous blog.After the fort we went back to Cortona to shop and eat.
Dad ordered sausage.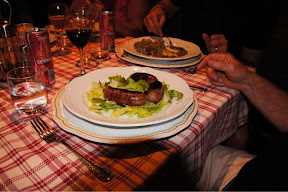 Kandice and Andrea ordered bruschetta with cheese or so they thought. It was bruschetta covered in lard. I tried it. Not bad. Wouldn't want to eat a whole piece but not bad.
I haven't blogged about Kandice the meat lover. She ordered something with meat for almost every meal. The first night in Cortona she ordered beef tenderloin that tasted amazing. This is a pork chop.