Today is Quince Terre, the five cities. It is part of the Italian Rivera. It is a long drive 4 hours. We are leaving at 7 am. We are going to try and stop in Pisa on the way back. .
I took over 300 pictures today. Everywhere you turned there was a shot. Going to post a few in this blog. Then add more with commentary probably after I return. I'll post the ones that really popped out at me as I view them on the iPad.
The following are from Quince Terre which is 5 cities once only connected by water or a long walk. There is now a train connecting them but the trail is there also. We took the boat as high as 4, Vernazza, and took the train to 2, Manarola. We then walked to 1, Riomaggiore. From there we boarded a boat we hoped took us back to Lerici but it stopped in Portovenere. We had to wait an hour for the next boat to Lerici where we started on the boat but got to explore Portovenere.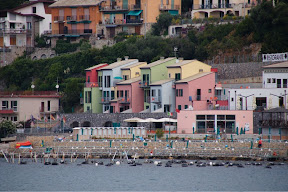 There was drama for the day. Auntie Steph fainted in Manarola. We think it was because she was dehydrated from being sick the day before and didn't eat and drink enough. She is much better now. Later in the day Chris helped a lady who feel of the bench as she was trying to eat. She was also exhausted and had not ate or drank enough.
- Posted using BlogPress from my iPad