First let me talk about Lorenzo. He is a world traveler. He recently spent 8 months in Latin America. He speaks four languages fluently and 2 others. He has been to more places in the USA then us. We all gave him our emails and encouraged him to visit and stay with us. Back at the apartment we saw pictures of Guiseppi's and Lena's visit to the USA in 1985. It took a long time to get the year from them earlier. I think that is what they were talking about in the picture my Uncle took.
Now for the food coma. The food was amazing. As was the wine. I am not a fan of white wines but the Vernaccia was amazing. It is unique to San Gimignano. Temecula needs it.
Now I almost drank two bottles myself. They kept filling my glass. I kept drinking but the glass was always full.
We clapped every time they brought something out. We clapped a lot.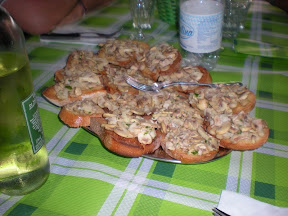 There was also one with white beans on top. I think it was our favorite.
Salami, Prosciutto and sheep cheese.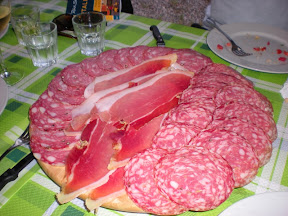 Pasta! Handmade by Lena. Awesome.
Pizza!
Desert. Nutella pizza!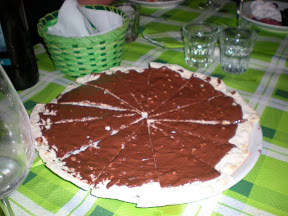 Grappo!!!! The Italian Tequila. Chris and I did shots or snaps as we heard somebody call it here. It is 84 proof.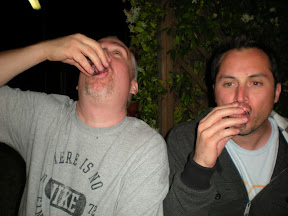 The shot did me in. It was good but strong stuff. On the ride home. I was annoying everyone by taking pictures. I was surprised to see the pictures on my camera. I don't remember taking them. Hawaii all over again but instead of Patron Grappo. I also texted my brother and told everyone to remind me to read them what I wrote tomorrow. I did not remember texting Jon until Kandice reminded me.
I stayed awake for the 1 1/2 hour ride home. If I closed my eyes bad things happened so it was best to keep them open.
We got home around 1 am which is when I apparently wrote the first part of this blog. We called my mom to tell her about the day and talked for about 25 minutes. Very expensive phone call. I have had to us data on my phone to use the GPS when Have been lost. Going to be a big phone bill.
- Posted using BlogPress from my iPad