Unfortunately we did not make it see the Pope. My Aunt was still feeling ill and they offered to let us go without them but we didn't want to leave them without a car. My Dad was disappointed but it wasn't meant to be. My Dad will just have to come back. What a shame to have to come back here.
As I write this I am sitting by the pool after taking a swim basking in the Tuscan sun, drinking wine and smoking a cigar. We are drinking some Chianti from Siena. Excellent!!!!
Today Dad, Adam, Kandice, and myself went to Assisi with Chris "Shifty" Lopez driving and Andrea "Bullseye" Lopez navigating the "Francisco Disco Wagon." We were in good hands.
We stopped for some pastries and coffee. Chris took a turn wrong in the van and we scraped the back wheel on the curb. Now we have a scrapped hub cab and a broken tail light. I guess I forgot to blog about that. Or did I?
Drive to Assisi.
We parked in a parking garage and as we went nip we were wondering if we would fit. Then we heard the scrap. But it was just the antenna. We would hear it scrap as we drove so we stopped and unscrewed it.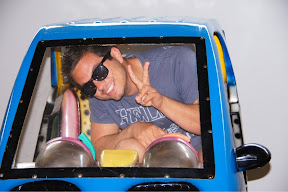 I haven't talked about bug bites much because they have left me alone. But they loved the Lopezs. We were worried it was heading for Chris heart so we took a picture to monitor it.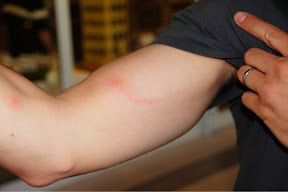 Pictures from Assisi.