We all slept well. We all woke up around 3 or 4 am and thought we would be awake the rest of the night but after an hour we all slept until about 8am. Some later. Breakfast is served from 8:30 until 10.
Breakfast at B&B.
After breakfast we set out for the Frari church.
This is the first place on the trip that I will be taking pictures even though there are no photograph signs. In retrospect should have taken picture of no picture sign. Next place I will do that.
I had downloaded Rick Steves audio tour so I listened to it while I toured the church.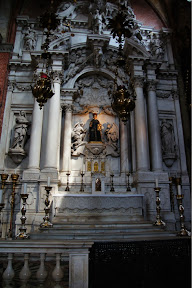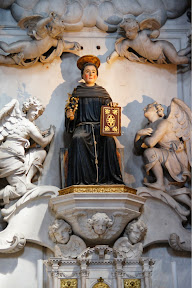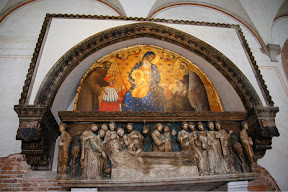 We left the church and headed back to St. Marks Square.
On the way back my Uncle stopped to talk to two ladies. Turns out they lost their husbands. We started walking again and my uncle disappears again. He found the husbands so we went back to tell the ladies. They were from Virginia and San Franciso.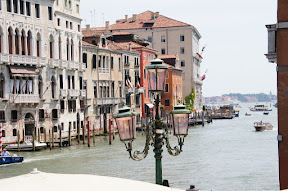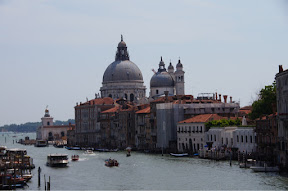 Gelato break.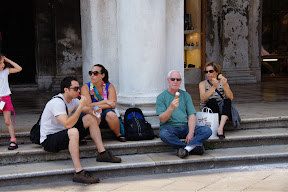 Time for sweets.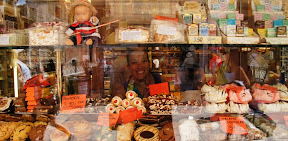 Dad was getting tired so we decided to go for a ride on a taxi to see the Grand Canal. But we screwed up. Well I screwed up. We bought one way tickets but got on the taxi going the wrong so we ended up in Lido. Andrea and I decided to " make lemonade from lemons" and go to Burano.
After paying $6.50 euro person for a one-way ticket and going owe stop we purchased tickets that got us unlimited rides for 12 hours that cost $16 euro.
Auntie Steph didn't want to go so we split up. Steph, Bob, Adam and Kandice went back to go to see St. Mark's Basilica and we went on to Burano. Burano is an island where the houses are painted bright colors so the fisherman knew what house to return to after fishing.
Lido.
We had to wait about a half hour so we walked around Lido a bit. It was a 20 minute boat ride to the first stop and then we had to get off to get on another boat to Burano. On the boat we met a couple from Huntsville Alabama. He was retired Army and had worked at SPAWAR like my uncle. Small world. We told him if my uncle was on the boat he would talk his ear off.
As we were getting off the boat in front of us were Adam, Kandice, Bob and Steph. They were behind us on the boat. They were hiding because they were embarrassed that they changed their minds. Adam took a picture of us in front of them that I will post when I can get it off his camera.
Bob and Mick talked while we waited a half hour for the next boat. Reunited we were then off to Burano.
We saw this tower leaning from the boat. It is really leaning but it was difficult to capture this in a picture.
More pictures from Burano.
Dad made some comments about this statue that are not appropriate to post. Ask me and I will tell you story but unless you know my Dad it will get lost in translation.
I was taking a picture of the shack and Mick and Cheryl happened to be passing by and wondered why. Mom-- Dad is buying this for you to move to. He figured it is all he can afford.
Time to head back. We talked to a ticket agent to figure put the best way back. Go back the way we came or continue onto Murano and then Venice. On the boat everyone was kind of quiet except for us. Everyone had to know we were crazy americans. The discussion turned to how loud we actually were and that Ada may be louder then me. Me and Adam together is a bad thing.
Murano is an island known for glass making and everything closes at 6pm but me and my Dad decided to stop for a half hour and catch the next boat.
Nothing real exciting here. Many glass shops and I purchased my first shot glass for the trip. The streets were lined with glass shops.
Dad and I got back on the boat for a quick stop back to Venice. I texted Chris to see if they walked the entire way back or took a water taxi again. They were walking and about to get on a water taxi. After a short walk I saw them ahead of us an yelled to Auntie Steph. After a few minutes she finally heard me. Turns out they had to back track because Uncle Bob left his wallet at a grocery store.
After returning to the B&B we rested and/or showered before dinner. As we were deciding what direction to head for dinner Chris was getting upset because we couldn't understand where he wanted to go.
The decision was made each night one of us would pick the dinner spot tonight would be Chris's turn. He chose:
Food was good. Had the best salad. The lettuce was so fresh. Dinner was pasta with meat sauce. Also very good. Beer with dinner tonight instead of wine. We also really enjoyed the bread sticks.
After dinner we walked back to find Harry's Bar. Supposedly Hemingway hung out there.
Chris, Andrea, Adam and Kandice decided to go on a Gondola ride. $100 Euro for 40 mins. I gave Chris my camera to take pictures. Because the girls sat by each other and the boys sat by each other the gondolier thought they were gay.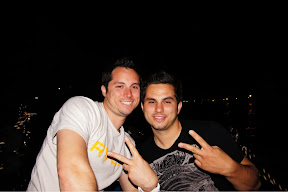 Fino