Not a lot going on today. It is the drive to Cortona through Florence. Everyone but me is at Academia seeing David. I am staying with our stuff in the car. Yes I am crazy but many years ago my ex-wife and I left stuff in the car towards the end of a vacation to Oregon and thieves broke the window and stole our luggage and camera etc. Still bothers me so I am sitting in the van blogging.
Here are some pictures from the Rialto 1082 B&B.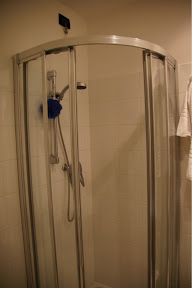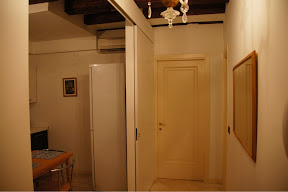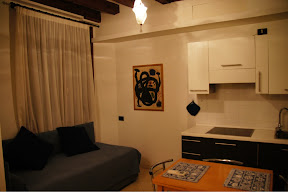 We left Venice around 9:30 am. After checking out we had to haul the luggage over the Rialto Bridge again. It was easier this time as it was less crowded. When we got to the water taxi spot Uncle Bob realized he still had a room key so he headed back. We had about 20 minutes to wait for the next water taxi to the airport.
The ride from the airport to Venice was very slow. Not so on the return trip. We were hauling through the water and it was choppy. A bit like a roller coaster ride. We decided this would have been worse then the plane ride for my mom.
When we got to the airport Uncle Bob and I headed to the car rental area while the others waited in a cafe. It was about a 5 min walk and when we got to the desk they asked for Bob's passport which of course my Aunt had. I called and texted Chris but no one answered so Uncle Bob headed back.
While I waited I asked how big the van was and if us and the luggage would all fit. We brought straps for a luggage rack but the van did not have one. I chatted with two ladies from Detroit who were waiting near me while their husbands checked to see if them and the luggage would fit in a station wagon.
Uncle Bob returned with his passport and we were off. A 9 person van is the biggest they have so we would have to make it work. We found the van and it is doable.
We had to figure out how to get back to the water taxi dock which was quite easy. We found a parking spot nearby and after about 3 minutes of trying to get in reverse we were parked. Turns out you need to left a lever to get it in reverse.
Here are a few pictures from the trip to Florence.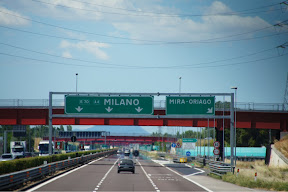 This is the first accident I saw today. The driver of the gas tanker was pissed I took the picture. BTW he was smoking a cigarette standing next to the gas tanker.
We arrived in Florence about 3:30 and had tickets to see David at 4pm. We got stuck in a traffic jam. People were getting out of the cars because we were not moving. I think we were only stuck there about 5 to 10 minutes. We quickly found a spot and I stayed with the van.
I took a nice nap and blogged. Accident number 2. Happened just behind me. Dude on a Vespa versus bus.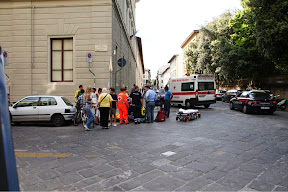 So this is where the day goes bad. Well not bad but we hit a few bumps in our otherwise smooth trip so far.
We had a difficult time leaving Florence. There was the autostrada out of the city and a slower "carriage way". We mistakenly got on the slower rode and it took us a long time to figure out how to get back to the autostrada.
The first problem was we really didn't eat anything after breakfast and it was 6 pm. So some of us were close to a possible meltdown.
Adam had to go to the bathroom and we stopped at a gas station but the bathroom was closed. We told him we would be there in 45 minutes so he said he could wait. 1 hour later when we weren't close we stopped and found a bathroom. After a few minutes we heard pounding and yelling. Adam was locked in the bathroom.
We thought it was hilarious. Adam not so much. While Adam avoided all the spiders we each set out to find something to get him out. I figured out how to get the screws exposed to the latch and Bob had a screwdriver in his bag and luckily it was on top in the van.
While Uncle Bob unscrewed the screws Andrea found something that could maybe pry the door open. We were thinking we could use something from the spare tire in the van but it looked like we had to remove everything to get to it.
Removing screws didn't work so we used the bar.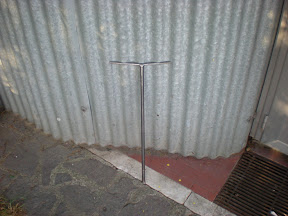 After Adam was free we set off again. We continued on and then realized we missed the turnoff. The missed turnoff was before the bathroom so if we would have turned Adam would not have got locked in.
Once we were back on the autostrada it was a quick trip to Cortona. The directions from the highway are not road names but landmarks. It was fun. I will post pictures later when I take them of the road to the Villa.
Villa Stefania is amazing. We have both houses. Chris, Andrea, and I are in the lower smaller part. These are pictures I took today, day 5, of the pool and lower house.
After we settled in we loaded into the van to find a restaurant for dinner. We drove into Cortona. Cortona is celebrating the festival of Santa Margherita so the town was very busy. Many of the restaurants were closing. It was about 10pm. We found one that would take us. Uncle Bob and I ordered vegetable soup with our meal but they came back to tell us they were out. I had pasta with bacon. The rule seems to be that the last meal is always the best one I have had. And this was true today.
Pictures from Cortona.
We ate here. There was a bridal shower next to us. They were having a great time. We wished we could understand them. There were a couple of men next the group and they ended up buying champagne for the ladies. I wish I had taken a picture of one of them that was wearing a sweater over shoulders/ tied around neck. He was a big dude and the sweater looked like a ladies small. There was no way he could fit into it.
- Posted using BlogPress from my iPad