Actually from night one.
Pictures from The Stinking Rose in Little Italy, North Beach.
http://www.thestinkingrose.com/
Outside The Stinking Rose on Columbia Street.
40 Clove Chicken. Didn't take picture of Bagna Calda appetizer.
Saved room for Gilroy Garlic Ice Cream. Was good but by the time I got to it my mouth was numb with garlic.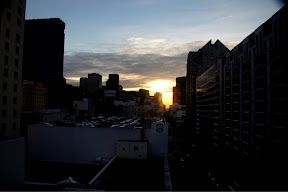 Sunrise from hotel room.
Tonight will be Cable Car ride to Fisherman's Wharf, Pier 39, and Ghirardelli Square. Time for a nap before afternoon sessions.
For co-workers reading this I have learned lots of things that the library can implement to improve work flows and customer service and I am only half way through Of course some require us to purchase modules from III, but many do not.
Brian
- Posted using BlogPress from my iPad